6th Black Box International Festival
The 6th annual Black Box International Festival was held in Plovdiv from May 31 to June 9, 2012. Over the festival's nine days, a wide range of dance, theatre and multimedia performances was staged at venues around the city – from the Plovdiv Drama Theatre's Chamber Hall and the Trakart Cultural Centre (Archeological Underpass), to Plovdiv University "Paisii Hilendarski" and Artnewscafe.
Starting this year, the Black Box Festival is shifting its focus to theatre and modern dance, with the aim of becoming an annual showcase for dance arts in Plovdiv.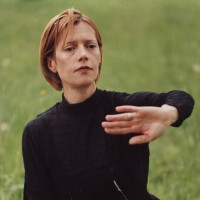 For its sixth edition, the Black Box Festival was pleased to welcome special guest Mila Iskrenova, one of Bulgaria's foremost choreographers. Specializing in modern dance, she is a guest instructor at the "Krustyo Sarafov" National Academy of Theatre and Film Arts, the "Prof. Pancho Vladigerov" National Music Academy, and the Accademia Filarmonica di Messina (Italy). She is also head choreographer for the legendary Arabesque Contemporary Dance Company.
SHOWS 2012
Official Opening
May 31
Dilemma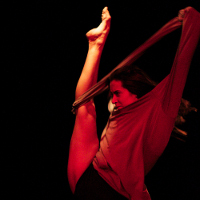 A solo performance by Olga Kosterina
Moscow, Russia
Chamber Hall, Plovdiv Drama Theatre, 7 p.m.
Olga Kosterina is a well-known theatre and dance show choreographer and creator of the pantomime workshop at "Mime School" – the Moscow studio of pantomime and movement theatre. She has garnered numerous honours from international art and theatre festivals, including Valgus (Tallinn, Estonia), Х International Street Theatre Festival (Arkhangelsk, Russia), XII International Festival of Theatre and Visual Art (Tchew, Poland), Dream of Streets (Tyumen, Russia), Mansion Jazz (Arkhangelskoye, Russia), and Etno-Life.
June 1
Wild Green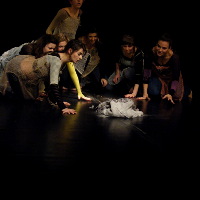 Alma Alter Theatre Laboratory
Sofia, Bulgaria
Chamber Hall, Plovdiv Drama Theatre, 7 p.m.
Wild Green pertains to the stylistics of dance and physical theatre. Taking up the challenge, the cast aspires to a much loftier goal – the synthetic, syncretic, interactive theatre where the audience is part of the performance and the performance is part of the audience. The philosophy and methodology of the Alma Alter Theatre Laboratory are based on the high esthetic concepts established by both the great Bulgarian modernist Geo Milev and the extreme, total reformer of world theatre, the renowned Jerzy Grotowski.
Director: Nikolay Georgiev
Writer: Dimitar Atanasov
June 2
Prophecy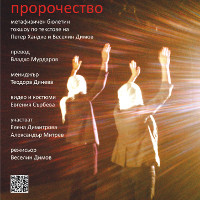 MOMO Theatre Company
Association for Alternative Contemporary Art
Sofia, Bulgaria
Plovdiv University "Paisii Hilendarski" , 6 p.m.
The MOMO Theatre Company was founded in 2008 by theatre director Veselin Dimov.
The troupe is focused on exploring marginal movie and theatre forms, unconventional theatrical texts, and on inducing the acute state of "presence in the moment" within the actor-spectator relationship. MOMO is co-founder and member of the Free Association Theatre (FAT), and member of the largest international network for contemporary performance arts, IETM (Brussels).
Prophecy (a metaphysical news flash) is a multimedia theatrical performance dedicated to the year 2012, based on texts by Peter Handke (Suicide, Caspar, and Prophecy) and Veselin Dimov.
Director: Vesselin Dimov
Video and Art Director: Evgenia Sarbeva
Cast: Elena Dimitrova, Alexander Mitrev
June 3
Penthesilea (Pathologie)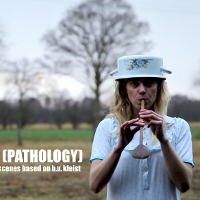 Evy Schubert
Video Performance
Berlin, Germany
Artnewscafe , 9 p.m.
Evy Schubert is a conceptual artist who lives and works in Berlin as a director of film, theatre and photography projects. She studied photography at the Spéos Paris Photographic Institute and holds degrees in social, theatre and communication sciences.
Ms. Schubert has worked as an assistant director for such theatre companies as the Volksbuehne Berlin. Her film projects include the essay film Vodopad, a search for the sound of peace in Sarajevo (BiH, 2009), as well as the video performances Le monde tombé (2008) and Penthesilea (Pathologie) (2011).
Penthesilea (Pathologie) explores the Kleist play Penthesilea, which takes place in a rural sanatorium. The myth is suspended in timelessness, illusion and reality, in a setting where a woman diagnosed with "Penthesilea" solely counteracts herself.
June 4
WORKSHOP – THE BODY AS A TOTAL PERFORMATIVE INSTRUMENT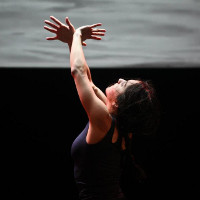 with Julia Ritter (US) and Ayrin Ersöz (Turkey)
Trakart Cultural Centre in the Archeological Underpass, 10 a.m.
Julia Ritter (US) and Ayrin Ersöz (Turkey) will explore the body as a total performative instrument, including voice and text as primary driving forces for movement improvisation and innovation in their workshop. The performance instrument will be used to encourage participants to explore their own movement possibilities through the use of voice and text. Improvisations will be arranged to help participants find their own voice and specific movement qualities. Ritter and Ersöz will focus on how the presence and actions of performers can be an intriguing source for an authentic audience experience.
Ayrin Ersöz is an Istanbul-based dancer/choreographer and academic. She studied at the Dance Department of the School of Art and Design at Yildiz Technical University, and also earned a PhD in Theatre Criticism and Dramaturgy from Istanbul University. Ersöz has danced with the CRR Dance Theatre Company and the Istanbul Dance Theatre, the latter giving her the opportunity to perform twice in the Venice Dance Biennale. She is currently director of the dance department at Yildiz Technical University.
Julia Ritter is a performer, choreographer, educator, Fulbright Scholar and the artistic director of The Performance Group. Julia is the recipient of three prestigious Fulbright Awards for her choreographic projects in Germany and Turkey. Julia is an Associate Professor of Dance at Mason Gross School of the Arts at Rutgers, The State University of New Jersey, where she teaches improvisation, choreography and modern dance technique, in addition to serving as Chair and Artistic Director of the department. From 1996 until 2002, Julia performed with Paule Turner and his company COURT. From 1997 to 1999, she performed nationally with the Melanie Stewart Dance Theatre. She has also performed with Bessie Award–winning artist Dana Salisbury.
June 4
WORKSHOP – GROTOWSKI'S THEATRE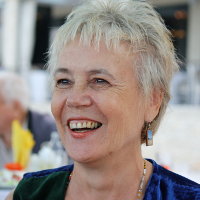 with Elena Karapiperi
Athens, Greece
Trakart Cultural Centre in the Archeological Underpass, 4 p.m.
Elena Karapiperi is a well-known actress and workshop teacher at the Theatre of Changes, Sun and Moon and Jatin in Greece. Her credits include best actress at the World Theatre Festival in Nancy, France. Elena Karapiperi specializes in Jerzy Grotowski's method and is a long-time master class teacher.
Music: Rene Aubry, Didgeralia, David Hudson
June 5
"Face of Israeli Independent Art" Program
Mo(ve)ment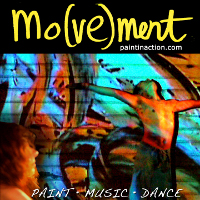 Israel/Holland Art Collective
Trakart Cultural Centre in the Archeological Underpass, 7 p.m.
The original multimedia, multidiscipline Mo(ve)ment show is an encounter between two artists – painter Tali Farchi and modern dancer Benno Hübner. The show unfolds as a dialogue between the two disciplines. The result is a playful, passionate and intimate duet performed to music that ranges from classical to hip hop. The story is told through painting, dance and music, without words.
Mo(ve)ment has been performed to critical acclaim in Europe, Israel, South Africa, Canada, and the United States.
June 6
Misery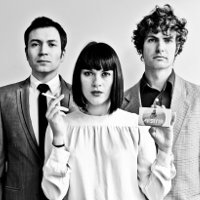 Atomic Theatre Company
Spain/Chile
Trakart Cultural Centre in the Archeological Underpass, 7 p.m.
Misery is a 15-minute short play about lack of affection and deception. Three creative staff from an ad agency are working on an upcoming campaign about a matchbox called "Misery." Theatre actor/director Iván Rojas studied at the Fernando González theatre school in Santiago, Chile, as well as La Casona theatre school in Barcelona, Spain.
He won the Critics' Award for Best Play of 2003 for his debut play, Playboy & Playgirl, which was performed over 200 times in Chile and Spain.
He has also acted in a short films such as Mobbing and Función de Tarde, which won best short at the Festival de Cine Negro de Manresa in Barcelona.
Director: Iván Rojas
Cast: Irene Rubio, Asier Iturriaga and Iván Rojas
Music: The Platters
Contemporary Dance Program " Body and Rhythm" - June 7-8
Day One - June 7
7 юни - четвъртък
"Face of Israeli Independent Dance" Program
Calypso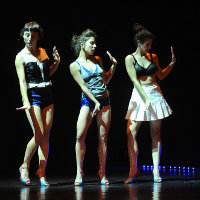 Tel Aviv, Israel
Chamber Hall, Plovdiv Drama Theatre, 7 p.m.
Calypso deals with popular representations of female sexuality throughout history. Four women are trapped in a mythical order that is constantly being updated – from Greece to Hollywood, and IDF to Euro Trash. The perfect world they create is no longer their own. At times its glamour fades, at others it dazzles in all its glory. An eclectic soundtrack features sweet melodies from the legendary Hollywood musical The Band Wagon, heavy metal, pop hits from the '90s, and contemporary electronica, creating a mosaic that takes audiences on a profound emotional journey.
"Mesmerizing beauty and edgy social commentary. Quoting and referencing iconic images and movement languages of the feminine, bathing beauty, Indian goddess, punk princess. These women take you in with their allure they take you under, gasping for breath, and seal the deal like a stiletto heel to the heart." - Ayelet Dekel, MidnightEast
Noa Shadur received the prestigious Prize for Young and Upcoming Choreographer of 2009 from the Israeli Minister of Culture and Sport. Other honours include 1st Winner Award at the Vdance Video Dance Festival (Israel); ADF Certificate of Distinction – Dancing for the Camera (NC, USA); and Best Film at the POOL07 Festival (Berlin). Her works have been presented at festivals and venues in the US, Canary Islands, Budapest, UK, Finland, Iceland, Japan, Germany, Switzerland, Greece, Portugal, Italy, Holland and Mexico.
Choreography: Noa Shadur
Day Two - June 8
June 8
Juanita Hildegard Bo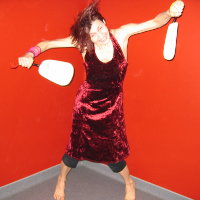 A solo performance by Galina Borissova
Sofia, Bulgaria
Chamber Hall, Plovdiv Drama Theatre, 5:30 p.m.
Galina Borissova is one of the leading figures in contemporary Bulgarian dance. This performance is the Gold Medal winner at the 2006 International Monodrama and Mime Festival in Belgrade. Juanita Hildegard Bo has been presented at the 24 Kvadrats festival in Gothenburg, Sweden; the Festival of Eastern European Art at Dance Theatre Workshop (NY); the East Sidе View celebration for the University of Groningen at the Grand Theatre, Holland; and Dance Across Borders, at Bard College's Richard B. Fisher Center for Performing Arts (NY).
Original Music: Lisa del Bo, Belgium and Elby, Sofia
Music Montage: Ani Collier
June 8
Tessitura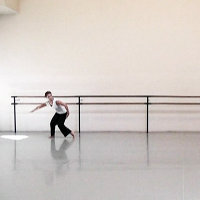 A solo performance by Lucille Teppa
London, England
Chamber Hall, Plovdiv Drama Theatre, 6:30 p.m.
Tessitura is a dynamic solo performance danced to Italian pianist Stefano Bollani's version of the famed "El Choclo" tango, composed by Angel Villoldo circa 1900. Tessitura is both a weaving and sorting process: the dance carves its own path, purifying the surrounding negative energy in its wake.
Born in Marseille, France, Lucille Teppa studied dance at the Trinity Laban Conservatoire of Music and Dance. She currently works as an independent dance artist based in London. She has performed in works by Efrosini Protopapa and Eva Karczag. In 2010, she was involved in the Hayward Gallery exhibition MOVE: Choreographing You in London. She is now a member of Emerging Dance Artists in Residence at London's Southbank Centre.
June 8
Bluebird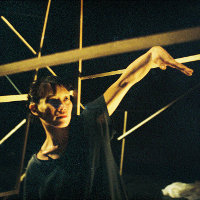 A solo performance by Rosa Mei
Cie 13 Dance Troupe
Belgium
Chamber Hall, Plovdiv Drama Theatre, 7:10 p.m.
Bluebird is an elegiac eulogy for a departed soulmate. It is loosely based on Charles Bukowski's poem of the same name. This dance serves as a memorial and farewell – a way to bring comfort and closure to the bereaved, while helping them find beauty in tragedy.
Rosa Mei is a theatre director, choreographer, filmmaker and multimedia artist. She is currently artistic director of the experimental dance troupe Cie 13. She has created over 30 works for the stage, which have been presented in 17 countries around the world. Her intricate pieces are bizarre tapestries of mathematically layered movement and surrealist symbolism. Mei mixes virtuosic performance with the poetics of place, race and ethnicity to create a new type of urban anthropology. Her work has been supported by the European Cultural Foundation, the Flemish Ministry of Culture, the City of Antwerp, and the Nordic Culture Fund. Honours include Stutter's Best of the Edinburgh Fringe Festival (2000), Editor's Pick – New York Citysearch, and Editor's Choice – Best of New York, The Village Voice.
"Astonishing finesse and virtuosity" - Brian Cooper, The Stage (London)
"Rosa Mei places the gestural specificity of martial arts atop contemporary rhythms and lyricism." - Chris Dohse, The Village Voice
June 8
Nothing for Body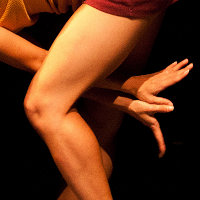 A solo performance by Howool Baek
Germany/Korea
Plovdiv Drama Theatre
Chamber Hall, Plovdiv Drama Theatre, 7:45 p.m.
Nothing for Body is a collaborative effort between Howool Baek and Matthias Erian. The "body" is the stage, and its fingers and toes – dancers. The choreographed movements provoke the imagination, getting the audience to see the concept of body in a whole new light.
Howool Baek is a young Korean choreographer based in Berlin. Her first choreography, I Want to Talk With You, won awards at the CJ Young Festival in 2007 and received the Dokebi Award in 2008 at the Chuncheon International Mime Festival in Korea. Her next work, Fade, was a finalist at the No Ballet international choreography competition (Germany) in 2009 and Yokohama Dance Collection (Japan) in 2010. Since 2009, her work has been presented in Germany, Austria, Belgium, Portugal, Japan and Slovenia.
Nothing for Body was selected for the Physical Theatre Festival at Wonderspace Nemo, Seoul, Korea; Klagenfurt Festival, Austria; Plesna Vesna, Španski Borci Cultural Centre, Ljubljana, Slovenia; Duncan Centre Theatre, Prague; Lucky Trimmer #17 Sophiensaele, Berlin; Platform, Zagreb, Croatia; Dublin Dance Festival; Aerowaves Spring Forward, Bassano del Grappa, Italy; and International Tanzmesse Nrw, Dusseldorf, Germany.
Music: Matthias Erian