13th Annual Black Box International Theatre and Dance Festival 2019
The 13h annual Black Box International Theatre and Dance Festival will be held from May 31 to June 6, 2019, in Plovdiv.
The festival features 9 international and Bulgarian works in the fields of theatre and contemporary dance from 7 countries. The festival's partners are the Bulgarian Ministry of Culture, Municipality of Plovdiv, Italian Cultural Institute, Austrian Embassy, Belgium Embassy, КCM 2000 Group, Plovdiv Drama Theatre, State Puppet Theatre Plovdiv, Theatre A'part, Cultural Centre Trakart, National High School for the Performing and Screen Arts Plovdiv, and Plovdiv 2019 Foundation.
Leading Bulgarian stage actor and director Deyan Donkov is a special guest of the 2019 The Black Box ITDF.
PROGRAM 2019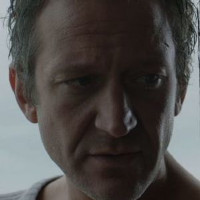 May 31 (Friday), 5 pm, Plovdiv Drama Theatre
Creative meeting with the leading Bulgarian film and stage actor and director Deyan Donkov
Official opening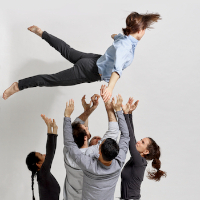 May 31(Friday), 7pm, Chamber Hall - Plovdiv Drama Theatre
ROUTES
BODHI PROJECT
SEAD – Salzburg Experimental Academy of Dance – Austria
Choreography: GN | MC Guy Nader and Maria Campos
Performance: bodhi project dancers: Bernat Macià Perez, Cristina Valdivielso Garcia, Fenia Chatzakou, Elise Ludinard, Yun Liu, Jun Wang/Joan Aguila Cuevas
Lights: Frank Lischka
Production: bodhi project
Premiere: October 28th 2018, tanz house Festival (Salzburg, Austria)
ROUTES steers our attention to a journey of multiple paths inhabited by the complicity of six people that constantly defy gravity finding different strategies of cooperation that make the complex paths and situations achievable.
GN | MC Guy Nader | Maria Campos is an independent ensemble based in Barcelona, Spain. The Lebanese and Spanish artists collaborate together since 2006; their works have been shown in various festivals and venues around the world.
GN|MC have been invited as guest choreographers to create for different European companies: EnKnapGroup in Slovenia, Eva Duda Dance Company/Movein Mission in Hungary, Tanzmainz Company in Germany. They have been awarded the German theatre prize DER FAUST 2017.
nternationally touring company bodhi project is part of the blackmountain non-profit organization, an association to promote contemporary dance and performance in Austria and abroad. Its "home base" and production address is SEAD - Salzburg Experimental Academy of Dance.
Guided by the artistic visionary Susan Quinn, Tanz_Haus co-founder, bodhi project's repertory is stylistically diversified and on tour throughout Europe and internationally. It showcases the artistic and technical excellence of the dancers' complex movement repertoire, demanding theatrical elements and a strong stage presence.
This guest performance is supported by the Austrian Embassy in Bulgaria.
DANCE ON TOUR AUSTRIA – a project by Tanzquartier Wien in cooperation with the Federal Ministry for Europe, Integration and Foreign Affairs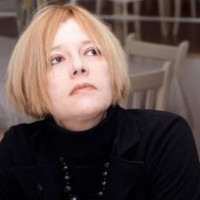 June 1(Saturday), 5 pm, U P.A.R.K Gallery
Screening of the documentary dance film "Dracula's diary"
with the participation of Mila Iskrenova
The documentary shows key moments of the performance "Dracula's Diary" created in 2012 with the special participation of the stars of the Ivan Vazov National Theatre - Deyan Donkov and Bilyana Petrinska. Script and choreography by Mila Iskrenova, texts by Milena Fuchedzhieva, multimedia by Nikola Nalbantov, and music by Emilian Gatsov-Elby and baroque arias.
June 1(Saturday), 7 pm, Chamber Hall – Plovdiv Drama Theatre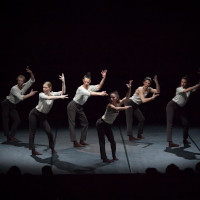 4 JOHN
ESKLAN ART'S FACTORY - Italy
Direction and choreography: Erika Silgoner & Bob Bobsil
Soundtrack: John Cage
Costume and set design: Erika Silgoner
Light Design: Andrea Rocchi and Erika Silgoner
This was meant to be a tribute to the brilliant American composer John Cage. It is a study of sound and silence, the sound reactions and its dynamics. A crucial element in this work is the interaction between artist and audience. This interaction is essential to such an extent as to affect implementation and duration of the performance. Innovative Italian dance company Esklan Art's Factory confirms, with this work, to own a charming and original personality leading the viewer to the total involvement, leaving him satisfied but never satiated.
This guest performance is supported by the Italian Cultural Institute in Bulgaria.
June 2 (Sunday), 7 pm, Chamber Hall – Plovdiv Drama Theatre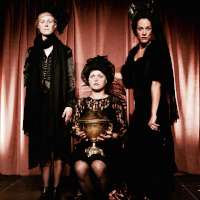 HENRI
Cie O quel dommage - Belgium
CREATION AND CONCEPT OF THE SHOW - Céline Pellin, Justine Moreau, Clara Lopez-Casado
STAGING AND WRITING SUPPORT - Louis Spagna
INTERPRETATION - Marie Limet, Justine Moreau, Clara Lopez-Casado
SUPPORT TO THE MUSIC CREATION - Marie-Sophie Talbot et Gaspard Herblot
LIGHTS DESIGN - Saïd Zaïour (Théatre des Doms), Régis Masson (C.C.Bruegel)
A funeral fantasy in one act, without words but full of voices.
Three ladies in black who would have done fine without seeing each other, celebrate together, not without difficulty, the funeral of a man of which they are the wife, the ex-wife and the lover. The atmosphere is explosive, the conventions exploded, the competition at its height, the recollection impossible ... A ceremony that sinks and turns into a happy fiasco!
The Cie O quel dommage is a company of visual theater that explores and researches universal languages with the objective of using them to create rhythm and songs, and that also uses the clown and the bouffon as main tools. Since 2009, they have been developing theatrical forms that encourage reflection through laughter, distorting reality in its absurd, comic, dramatic, tender and poetic dimensions.
Their shows are tenderly cruel and cruelly funny, in which we particularly like to make fun of the pain in all its forms, as a way to joyful redirect our look to the slightest social convention.
This guest performance is supported by the Belgian Embassy in Bulgaria.
June 4 (Tuesday), 7 pm, State Puppet Theatre - Plovdiv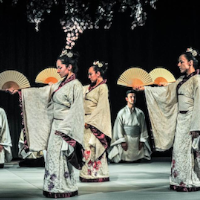 The Prince of the Sea and the Prince of the Earth
Production of State Puppet Theatre Plovdiv
Bulgaria-Japan
Director: Elena Panayotova
Composer: Assen Avramov
Choreographer: Rosen Mihaylov
Stage design: Juliana Voykova-Nieman
Actors: Natalia Vasileva, Mihaela Andonova, Maria Dimitrova, Daniela Teneva, Velizar Evtimov, Alexander Karamanov, Dimitar Nikolov, Rumen Karamanov, Viktor Boychev and the musicians: Marina Velikova and Yordan Vichev
The puppet-theatre performance 'The Prince of the Sea and the Prince of the Earth' is inspired by the traditional Japanese Bunraku theatre, based on the famous story of the two brothers whose love for the Dragon Princess of the Ocean gave birth to the first Japanese emperor – a classic Japanese legend for love, trust, the given word and meaning of life.
The performance 'The Prince of the Sea and the Prince of the Earth' is created by some of the most established Bulgarian theatre artists in collaboration with two Japanese artists: a puppet maker-master and a choreographer.
The project is part of the official programme of Plovdiv - European Capital of culture 2019, FOCUS: Japanese Culture Programme, which is implemented in partnership with the EU-Japan Fest Foundation.
June 4 (Tuesday), 8 pm, Theatre A'part
Goršek
Goršecke Narodnie Akademične Teatr - Czech Republic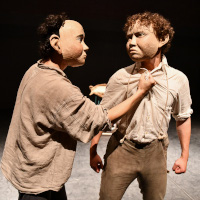 Director: William Valerián
Concept & interpretation: Šimon Pliska, Andrej Lyga
Music: William Valerián
Masks: Rufina Bazlová, Viktorie Drdová
Production: Andrea Vykysalá
Supervision: Roman Horák
Supported by: HAMU, Alfred ve dvoře, divadlo DISK
Performance which tells the story of two brothers from mythological Goršek's plateau. Goršek is a play for two actors and two masks. It develops within space of a single room a tragicomedy full of love and hate, cruelty, friendship and cabin fever.
The authors process themes of Slavic culture, existential literature and absurd drama of 2nd half of 20th century (Jean-Paul Sartre, Samuel Beckett). They aim to observe behavior of human psyche in extreme situations of long-lasting isolation from the society.
June 5 (Wednesday), 7 pm, Cultural Centre Trakart
The Masters - Israel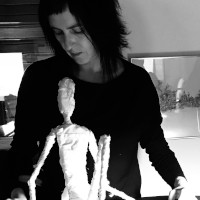 Director: Masha Nemirovsky
Composer: Anna Segal
Puppet designer: Maria Gurevich
A composer and a puppet maker, each one a master of their craft, meet around a grand piano.
Under the composer's fingers, melodies— both nostalgic and humorous emerge. And before our eyes, the puppet maker begins to conjure living beings from simple materials. Her creations play out their stories in harmony with the music. These stories, short and sometimes absurd, are the invention of a third master: the director. 
The piano becomes a stage for a touching and funny spectacle.
Director with long and rich carrier, Maria Nemirovsky is laureate of Jerusalem Prize for Theatre - 2002.
Composer: Anna Segal is a member of ACUM and The Israel Composers League (ICL). She is a recipient of the America-Israel Cultural Foundation Scholarship.
Her works are regularly performed by many orchestras, ensembles and soloists: Berliner Symphoniker, London Mozart Players Orchestra, Ukraine National Philharmonic Orchestra, The Jerusalem Symphony Orchestra, Irkutsk Philharmonic Orchestra, Daego Chamber Orchestra (Korea), Armenian Philharmonic Orchestra, The Raanana Symphonette, The Israel Stage Orchestra and Baskent Chamber Orchestra in Turkey – among others.
Puppet designer Maria Gurevich is best known for her TV puppets work which has won her acclaim in Europe, the United States and Japan.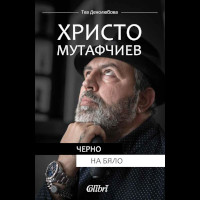 June 5 (Wednesday), 6 pm, U P.A.R.K Gallery
Premiere of the book "Hristo Mutafchiev: In black and white" by Thea Denolubova
Co-organized by Colibri Publishing House and the Black Box Festival
OFFICIAL CLOSING
June 6 (Тhursday), 7 pm, Chamber Hall – Plovdiv Drama Theatre
ELEVATOR
boys will be boys
M Studio - Romania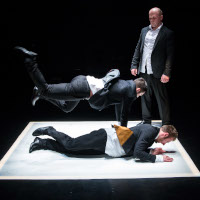 Performers: Deák Zoltán, Szekrényes László, Veres Nagy Attila
Choreographer: Fehér Ferenc
Music: Fehér Ferenc
Light technician: Szabó Huba
Sound technician: Chirițescu György
Wardrobe assistant: Both Melinda
Technical director: Bartók Enikő
Prize for best direction. - ALEF International Theatre Festival - Tabriz (Iran) Nomination for best choreography and best music. - 37th Fadjr International Theatre Festival – Tehran (Iran)
Presented at: Interethnic Theatre Festival - Odorheiu Secuiesc (Romania)
FestIn pe Bulevard International Theatre Festival - Bucharest (Romania)
Thealter International Festival - Szeged (Hungary)
ALEF International Theatre Festival - Tabriz (Iran). In Tabriz the show won the prize for best direction.
37th Fadjr International Theatre Festival – Tehran (Iran)
The elevator is a narrow space where people get on and off, going up and down without getting in touch with each other. The elevator is always on the move. But if suddenly it gets stuck on the way, anything can happen.
Elevator explores the possibilities of a small, tight space and creates a dynamic and intense atmosphere for the three performers.
Ferenc Fehér is an independent and defining figure in the Hungarian dance theatre scene, his works being appreciated worldwide at international dance and theatre festivals. His unmistakable aesthetics and suggestive style originates from the combination of freestyle dance, animal-like and martial arts movements. From 2013 is recurrent choreographer at Studio M.
Studio M was established in 2005 in Sfântu Gheorghe as an experimental movement theatre company that speaks about the world in a specific language born from the fluctuation between physical theatre, contemporary dance, visuality, respectively poetic and dramatic theatre. The company is continuously searching for new ways of expression.